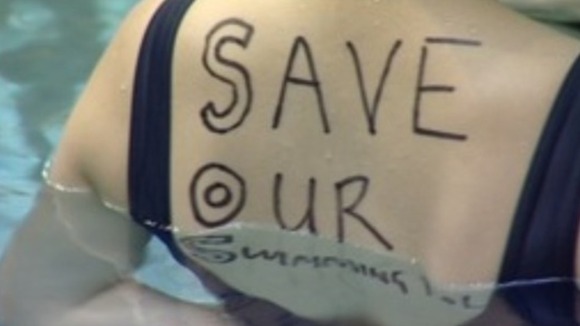 Goodbye City Pool
Here in the UK the recession is really starting to bite. Public services are being slashed to the bone. The City Council in Newcastle is cutting arts, leisure and libraries funding, and one of the main casualties has been the City Pool. On its council website the pool is described as "Newcastle's premier city centre swimming facility. Its pools are just some of the attractions in the beautiful Victorian building including a fitness suite and historic Turkish bath."
Ok so let's close it then.
Victorian splendour
The last swimmer has left the building
Protesters rallied and outrage was quickly sparked.
Grandmother-of-two Margaret Jones, 64, of Heaton, Newcastle, used the swimming pool every week for the last 40 years. "I don't know what I'll do if the pool closes. It is devastating to think that it will shut" she said sadly. The closure of the pool will have an effect on people's fitness as well as on the social life of the local community. Newcastle City Pool was home to the Newcastle Amateur Swimming Club, which has more than 200 members. Are they destined to be land lubbers from now on? Could there really have been no alternative? People staged a 'swim in' to show their anger at the council's decision.
No more swimming
City Pool boasted a vaulted Victorian 25m pool and spectator gallery. It was regularly used for baptisms and of course, Aqua Zumba. The historic building also housed a Turkish bath – one of the 11 remaining marble Victorian Turkish Baths in England. I appreciate that old Victorian Pools are expensive to maintain. The fabric of the building needs a lot of attention and swimming pools rarely pay for themselves because of the huge cost of continually heating that great big body of water. However some old pools have been taken over by the community they serve, and by diversifying and being creative they can survive, like the old Victorian Pool in Jesmond which the council closed in the 90's. The Turkish baths were always amazingly cheap (only £5 or so for a steam and sauna) and they had alternate ladies' and mens' days. (There were some dodgy stories about what went on on the mens' days which I won't elaborate on here) Today, Spas are big business, anyone in the hotel trade will tell you that. If these rare Victorian Turkish Baths had been in some other City they could well have been turned into a paying tourist attraction as they have done in places like Bath and Harrogate. But that would have required some vision, some investment, and a more business minded attitude from the city council. Councils rarely display much business acumen. They just like to complain that the government isn't giving them enough money and argue about how to spend the council tax.
keep your head up
Turkish time!
Last stand mat
Read more: Journal Live http://www.journallive.co.uk/north-east-news/todays-news/2013/01/28/newcastle-city-pool-closure-plans-prompt-protesters-to-stage-swim-in-61634-32691468/#sitelife-commentsWidget-bottom#ixzz2PO42XEEE
Swim under swim in