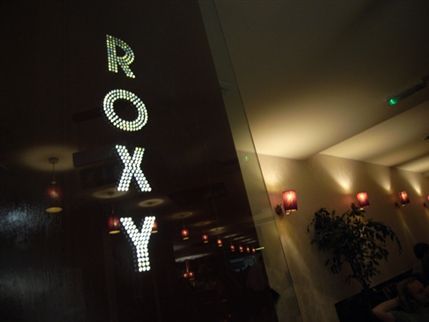 Cool cats hang out at the Roxy
The Roxy Bar and Screen is an independent cinema on Borough High Street in South London. It operates a different kind of cinematic experience from the big chain multiplexes. There is no popcorn costing more than gold ounce for ounce, no overpriced post mix soda and no pick and mix to enable you to take in your entire days calorie requirements within half an hour. Instead of rows of uniform seats there is an eclectic mix of seating reminiscent of a furniture saleroom and at the front there are tables and old chesterfields you can sink into to watch the movie in comfort.
Female Psychos -ace!
You can partake of a civilised sea bass at one of the tables while taking in a flick and there is a cute bar where all your alcoholic requirements can be supplied at the same time. In fact the Roxy is probably the only place in the country where you can order a real life Pan Galactic Gargle Blaster – a cocktail made famous by our very own Douglas Adams in Hitch Hikers guide to the Galaxy. The actual contents of a Pan Galactic Gargle Blaster seems to be a subject of some debate. The Roxy version includes a sharp chocolate liqueur and a dash of vanilla and can result in extreme intoxication if drunk in a cavalier manner. The Roxy also has lots of events and I am given to understand that their New Year's Eve party is of particular note. The other nice thing is that you can buy a years subscription to see all the films for £60 which can work out very good value indeed if you are a film fan.You can pay up to £18 now for a cinema ticket at the Odeon in London. You could see four films at the Roxy for that!
Pan Galactic Gargle Blaster
The night we were there we saw the charming film 'Beasts of the Southern Wild' – winner of the Camera D'Or Award at the 2012 Cannes film festival and the Grand Jury prize at the Sundance Film festival. It features a virtuoso performance from Quvenzhané Wallis as six year old 'Hushpuppy' who lives in the 'bathtub' a water logged rural area of Louisiana. I am sure Daniel Day Louis would have loved the part but he was too busy doing Lincoln.
The Tate Modern
Is that Daniel Day Lewis?